Profarmer is the retail platform for Profeeds Pvt Ltd, the leading manufacturer of livestock feed in Zimbabwe. This retail footprint extends to over 45 branches nationwide providing high-performance livestock feed and Day-Old Broiler Chicks since 2010. Profeeds Pvt Ltd is an associate company under INNSCOR Pvt Ltd and falls under the ProGroup Holdings.
Our vision is to become the market leader and destination for all poultry needs. The trust and support gained from our valued customers over the years is a key driver of our ambition to become Zimbabwe's leading integrated agri-business with a focus to impart a positive change in people's lives through generating income options and offering solutions to all poultry and farming needs.
Our branch network continues to grow and flourish with more products and an improved shopping experience under the Profarmer Hub and Profarmer Xpress concept stores. The Profarmer brand encapsulates our additional array of products which now range from agriculture inputs such as fertilizer, seed, and crop chemicals to a comprehensive assortment of veterinary solutions for poultry and other livestock. These developments are in response to our customers' cry for the convenience of getting all poultry and farming needs under one roof. We also offer expert advice free of charge to assist our farmers to get maximum benefit from their projects.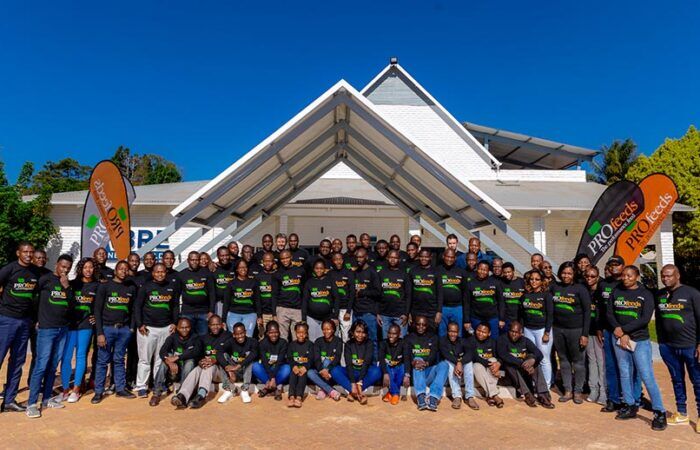 Our customer facing staff is at the heart of our business. We continually invest in the training and development of our consultants to deliver a customer experience that is unmatched in the industry cementing our position as a trusted solutions provider for small scale farmers. Through our technical team, we provide extensive customer support through a series of training sessions and we also provide on-site customer support where required to help farmers achieve their growth ambitions in a cost-effective manner.
We partner with the leading chicken producers in the country, namely Irvines, Hukuru and Charles Stewart, to source our poultry products. When it comes to fish, our fingerlings are supplied by our subsidiary, Fish Feed Pvt Ltd. Our most recent partnership has been with Colcom Pvt Ltd, which is our supplier for 4-week old piglets. We pride ourselves with giving our customers quality assurance from our association with credible brands that have stood the test of time.